NFHA alert on Congressional AFFH Amendments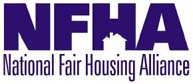 Tell Congress to Defend the Tools and Resources We Have to Fight Housing Discrimination
While we were away House and Senate appropriations staff continued to hold closed-door negotiations on the HUD and other spending bills during the Thanksgiving recess, clearing out hundreds of policy riders that have been considered. Congress has 10 days to reach an agreement on a package of 12 appropriations bills ("Omnibus bill") for FY2016 before budget authority expires on Dec. 11 in order to avoid a government shutdown, but disagreement on policy riders continues to present the greatest challenge to moving the spending package forward. Earlier today Republican leaders presented an omnibus package to House Democratic leaders who rejected the proposal, objecting to nearly 30 "poison pill" policy riders that would withdraw financial, environmental, and other rules. Congress must now continue to negotiate an agreement that would pass with Democratic votes, and supporters of fair housing need all the help they can get from constituents to strengthen their bargaining position.

It is unclear which policy riders are still being considered. What is clear is that fair housing advocates must continue to DEMAND that Congress oppose any policy riders that threaten the tools or resources we have to fight housing discrimination. Fair housing advocates cannot leave anything to chance and with enough consistent outreach we can fight off the malicious attacks on fair housing in this omnibus bill.
THE TIME FOR ACTION IS NOW!
Contact your Senators and Representatives Immediately!
Call the Capitol Switchboard at (202) 224-3121 and ask to be connected to your Senator's/Representative's office. Ask to speak to the staffer who handles appropriations. If you are sent to voicemail, please leave a detailed message.
MESSAGE
Several malicious policy riders being considered in the omnibus negotiations would eliminate the resources that fair housing organizations use to help victims of housing discrimination and the tools that the federal government uses to protect housing choice and fight discrimination throughout the nation.

The Senator/Representative must:
Oppose any attempt to zero out private enforcement grants under the Fair Housing Initiatives Program that would deny victims of housing discrimination across the country the resources necessary to investigate and address their complaints.

Oppose attempts to stop HUD from implementing and enforcing its new Affirmatively Furthering Fair Housing (AFFH) rule, a fair housing planning tool that provides a clear framework and data to help local governments meet their existing requirements to identify and address barriers to housing choice through the use of their federally assisted housing and community development programs.

Oppose any attempts to undermine HUD and DOJ's enforcement against unnecessary discriminatory housing policies that have a disparate impact on families with children, people with disabilities, and people of color.

Oppose any attempt to restrict any component of HUD's FHIP program, including setting caps for the Private Enforcement Initiative (PEI), Education and Outreach Initiative (EOI) grants. HUD must retain its discretion in determining how to allocate available funds to each grant under the FHIP program.

Support level funding of $40.1 million for the Fair Housing Initiatives Program.
Follow up with an email:
Senate staffers can be reached at FirstName_LastName@SENATOR.Senate.gov.


House staffers can be reached at FirstName.LastName@mail.house.gov.
Please include the talking points above and also share the letter with 208 organizations opposed to any attack on fair housing and the fact sheet on the anti-fair housing amendments that passed the House in June.
[15060]